After meeting Muhyiddin in Dubai, this Malay Mail report could be good news for those who like to see the demise of United Malay National Organisation.We pray Ali Rustam or Mat Tyson to be the new deputy president of United Malay National Organisation by this March....
Whatever the reasons given below, money talks and walks....and the high price determines the real winner of the jackpot of power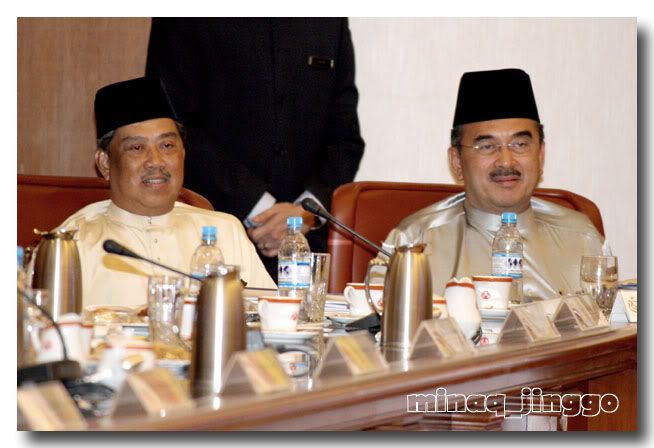 Muhyiddin outpaced in Umno No 2 race, say observers
By Zainal Epi
The ground is abuzz with word that Malacca Chief Minister Datuk Seri Mohd Ali Rustam has taken the lead in the lively contest for the Umno deputy president's post.
While there is no way of verifying this, a substantial number of political observers are convinced that Mohd Ali has overtaken International Trade and Industry Minister Tan Sri Muhyiddin Yassin, touted as the crowd favourite, to sit next to Datuk Seri Najib Razak in Umno's highest ranks come March.
Muhyiddin, if one is to believe his detractors, has "lost quite a bit of ground", despite being thought to be "invincible" after his call for the resignation of party president and Prime Minister Datuk Seri Abdullah Ahmad Badawi.
Some are convinced that he would not be a good deputy as he is too strong a character and would challenge Najib. Others attribute his loss of ground in the Umno leadership battle to his purported "unfriendliness".
Big Mama a.k.a Rosmah says "I Don't bloody care!"
"Muhyiddin's lobbyists are still selling the same story of his calling on Pak Lah to step down, and for the handing over of power to Najib be sped up. It worked in the days leading to the nominations, but there are now other factors to be considered," said a campaigner.
"During our meetings now, we talk about how a leader can contribute to strengthening Umno and the president's position, how to defend the party and Barisan Nasional from attacks launched by the Opposition, among others," said the campaigner.
"There is talk that the second highest ranked party man must not be too ambitious and pose the threat of unseating the number one man later. This is important because we want absolute loyalty, so that our energy can be focused on strengthening the party and not on internal squabbles."
The campaigner said the word sombong (snobbish) is sometimes used to describe Muhyiddin's character and this has worked against his acceptance by some delegates.
Mohd Ali, on the other hand, is said to be popular, approachable and "less threatening" than Muhyiddin.
"He is being aided by members of youth councils and other youth organisations who are also delegates to the party assembly," said another campaigner.
Mohd Ali is the president of the Malaysian Youth Council and also the president of the World Association of Malaysian Youth (WAMY), and has been supportive of their causes for some time now.
Campaigners said there were some 700 delegates under this category alone.