Today I drove a friend's luxury sedan on Emirates Highway and passing a super luxury project in Dubailand. Feeling like a billionaire while looking at those mansions under construction.
During my days at Palm Jumeirah, it was a delight to see those mansions morphed from sketch into real things. Every owner on the Palm is a millionaire by virtue of the property value.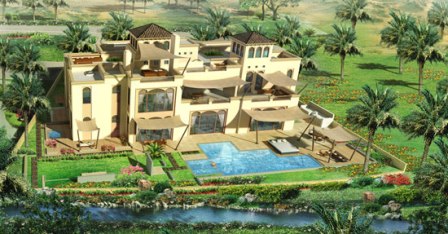 A tranquil residential retreat being created in a corner of Dubai is fast becoming an attractive haven for the world's super-rich wanting to escape from the hustle and bustle of everyday life.
Drawn by the promise of unprecedented luxury living, the mega-wealthy are snapping up properties within
Al Barari
, turning the development within the royal area of Nad Al Sheba into Dubai's answer to billionaires' row.
Al Barari, which translates from Arabic as 'The Wilderness'is $6.4bn real estate project and dubbed as has more billionaires per square metre than anywhere else.
Open space is something the development has in abundance too. Over 300 secluded villas surrounded by trees and lakes are spread over 14.2 million sq ft, making Al Barari the lowest density development in the region with over 80 percent un-built area.
Added to this tranquil landscape are open spaces, botanical gardens, waterways, walking and jogging tracks, dedicated outdoor yoga areas as well as recreational and community facilities.
Phase one of the project, which is 75 percent complete, is made up of 300 villas.
Infrastructure and earthworks will start at the end of the year on phase two, which includes a six-star boutique hotel, 32 villas, a spa and resort, a healing haven of alternative medicine, apartments, shopping areas, gardens, a grand mosque and a cultural village.
The developer is bringing plants from all over the world for sustainability and greenery.
But even by Dubai standards, Al Barari is unashamedly high-end and will more than meet expectations.
Infinity swimming pools, hanging gardens, home theatres and private home spas feature within the apartments labelled the Billionaire Collection.
A personal chef and butler is provided for each of the guests staying at the 120-suite hotel in phase two, while the 55 secluded spa villas all have private treatment pavilions and swimming pools.